Phishing is an e-mail fraud method in which someone sends out legitimate-looking email in an attempt to gather personal and financial information from recipients. Typically, the messages appear to come from well known and trustworthy people or organizations or Web sites.
Do not respond to a phishing attempt. Doing so only provides whoever sent the email with more legitimate account information.

RealFloors IT Services will never ask you to go to an external web site to verify, upgrade, or enhance your email account.

RealFloors IT Services will never ask you to send RealFloors ID or password to us or a third party.

If you have concerns about a phishing attempt or you have received a recent phishing attempt involving your RealFloors account, please feel free to contact us at 678.310.1815 or submit a help desk ticket through help@realfloors.com
If you see a suspicious email asking for personal information, you can report the email for phishing.
On your computer, open Gmail.
Open an email from the sender you want to report.
In the top right, click the Down arrow.
Click Report phishing.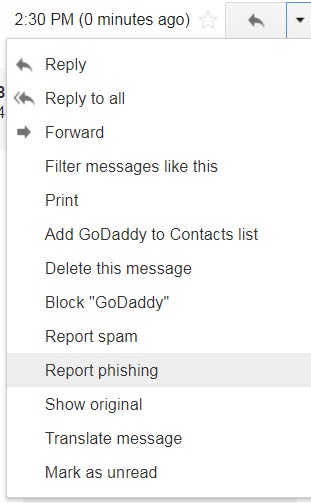 Want to find out more? Check out More Info than you ever need to know about common scams