If your device, your carrier, and your data plan allows it, you can turn your mobile phone into a Wi-Fi hotspot to get your laptop or tablet online.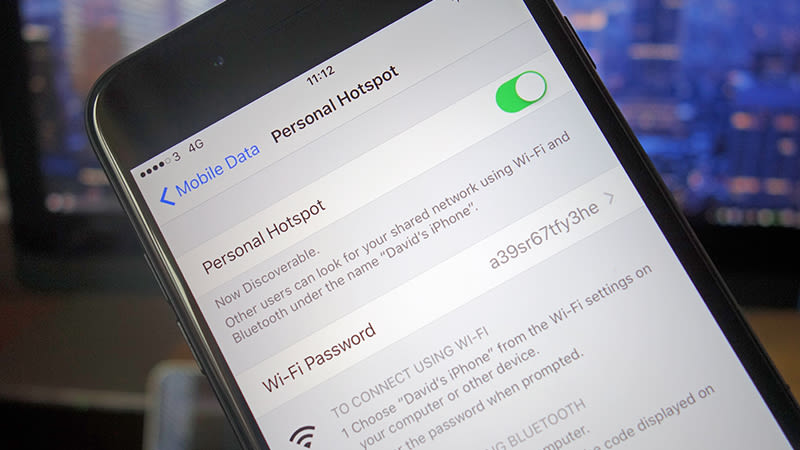 Go to Settings on your Android phone. You can get there by pressing the menu button on your device when you're on the home screen, then tapping "Settings".
At the Settings screen, tap the "Wireless & networks" option.
You should see an option for "Portable Wi-Fi hotspot". Click the check mark beside it to turn on the hotspot and your phone will start acting like a wireless access point. (You should see a message in the notification bar when it's activated.)

To adjust and check the settings for the hotspot, tap the aptly named "Portable Wi-Fi hotspot settings" option. You'll need to do this if you don't know the default password that will be created for your hotspot so you can make a note of it for connecting your other devices.
You can change the default password, security level, router name (SSID), and also manage users connected wirelessly to your phone in the Wi-Fi hotspot settings.
Find and Connect to the New Wi-Fi Hotspot Created
From each of the other devices you want to share Internet access with, find the Wi-Fi hotspot; this will probably be done automatically for you. (Your computer, tablet, and/or other smartphones most likely will notify you that there are new wireless networks to connect to. If not, on another Android phone, you'll find the wireless networks under Settings > Wireless & networks > Wi-Fi settings.
Finally, establish the connection by entering in the password you noted above.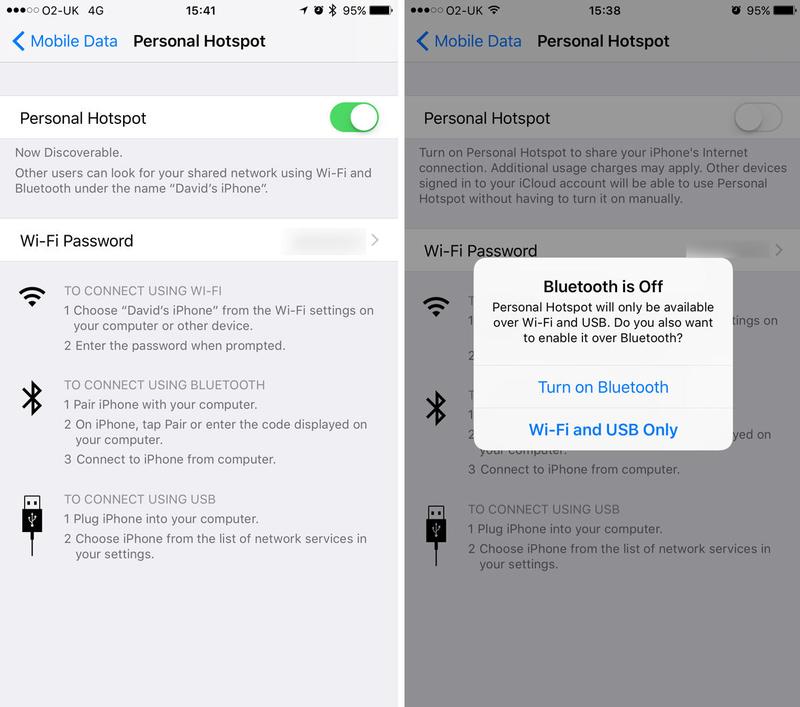 Here's how to set up an iPhone Wi-Fi hotspot:
Open the Settings app, then select Mobile Data. (In iOS 10 or later. In some older versions of iOS you just select Mobile.)
Tap Personal Hotspot, and set Personal Hotspot to On. (Tap the slide so it turns green.)
If Wi-Fi and/or Bluetooth are off, iOS will ask if you want to turn them back on. We'd recommend doing so - without them, the hotspot will be limited to USB. This is more secure, however.
Tap 'Wi-Fi Password' and enter a suitable password. (This isn't related to your Apple ID or usual Wi-Fi connection.)
Now check the name of the hotspot listed under To Connect Using Wi-Fi
Click the Wi-Fi icon in your laptops Menu bar, or open the Settings app and tap Wi-Fi on an iPad, and choose the Wi-Fi hotspot.
Enter the password from Step 4.
NOTE: you can set your device to always connect to your hotspot when it is detected.
Open the network and sharing Center and go to Manage Wireless Networks.
Find the entry for your hotspot
check the box to connect automatically when this network is in range.