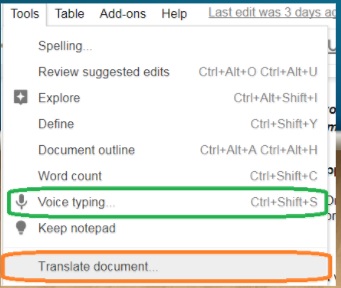 Translate on the Fly
Want a document in Spanish? Upload it to Google Drive, open it (as a Google Doc), click Tools, then Translate Document. You'll get a duplicate doc in your preferred language.
Voice Type in Docs
Open up a brand new blank Google Doc file for word processing on the desktop, and if your computer has a microphone, you have the option to do Voice Typing. If it doesn't come up automatically, you'll find it in the tools menu. It puts a microphone icon next to the document—click on it to speak, and what you say appears in the doc. The microphone icon pulses when it hears you.

Note: These features are only available in Chrome browsers.